8 Domestic Security Tips to Keep the Burglar Out This Winter
8 Domestic Security Tips to Keep the Burglar Out This Winter
Domestic Security Advice from Lock Doctor
Christmas is on the way which means that the Winter is here and the nights are getting longer. During the Christmas season, many of us leave the house while we go Christmas shopping, attend Christmas parties or visit family for a couple of days. Burglars are aware of this and this is why burglaries are a real problem in Ireland during the Winter. Fortunately, Lock Doctor are here to help you prevent your home being broken into. We can advise you on how to increase the domestic security of your home and we can also supply you with essential domestic security products. Follow the 8 bits of domestic security advice below to prevent burglary this Winter.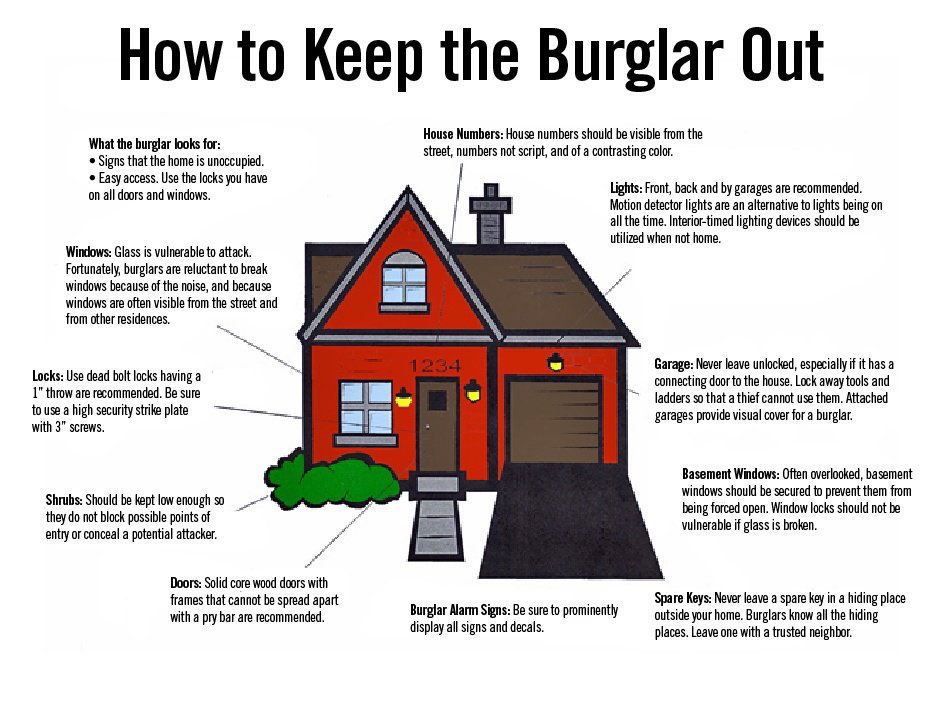 1. House Keys
It is unwise to leave a spare house key under a mat, under a pot plant or anywhere outside your house. Burglars are well aware that people do this and these will be the first places they will look for quick access to your home. Your best option is to leave a spare key with a neighbour that you trust. Then you can have peace of mind that your key will be safe and there is a spare key nearby if you lose yours before you get home.
2. Burglar Alarm
If you don't already have a burglar alarm in your house then it would be in your best interest to look into getting one. There are plenty of companies in Ireland that will be install a burglar alarm in your home at a competitive price. Make sure that your alarm is installed by a qualified professional. If you already have a burglar alarm, test that it works efficiently and also make sure you set it up correctly before you leave the house.
3. Double Check Doors & Windows
Before you leave your house, you should always check all of the entry points of your home. Double check that all of your doors are closed and locked. Also, it is important to check that all of your windows are shut and closed. If your home has blinds, then pull them down. Blinds can prevent burglars from seeing into your home but also make windows even more difficult to gain access from. This is an important bit of domestic security advice.
4. Extra Security Window Locks
Windows are one of the weakest entry points in the home. Our domestic security advice is that it is a good practice to invest in security window locks, especially on the ground level. If your windows are externally beaded, an intruder need only remove the window frame panels to remove the glass and gain entry. Quick, smooth and also safe for the burglar! With the NoGo Window Lock, the discreet lock is fixed to the inside of the double glazed window frame. Securing it and making it impossible for the glass panel to be removed. The NoGo Window Lock comes in several colours and finishes, to best match your window. Installed in a few minutes, it is a really simple and cost-effective solution, to secure your windows. Window Locks can be purchased at your nearest Lock Doctor shop or call us on 1850 555 000.
5. Security Lights
Lock Doctor's Security Lights are one of the most effective ways to prevent crime around your home and your business. Security lighting is also a deterrent as it exposes the burglar. A burglar always looks for places with little or no lighting. The NightWatcher has a patent pending motion tracking feature built into a PIR lamp. The NightWatcher detects an intruder's motion within the field of vision of the PIR. It then points the lamp directly at the intruder. As the intruder moves across the PIR field of vision, the motorized NightWatcher lamp head also takes aim and follow. You can purchase security lights at your nearest Lock Doctor shop or call us on 1850 555 000.
6. Make your home look as if it is occupied
A simple but also effective way to deter burglars is to make your home seem as though it is occupied. Some people do this by leaving a light on or leaving the radio on. If you are away for a couple of days then you can also ask a neighbour to pop in and check on your home. Burglars who are watching your home may see a light on, hear a radio on or see someone checking in on your home. This may presume that your home is not unoccupied.
7. High Security Locks
High Security Locks are also a great way to protect your property from burglars. You could lock up any gates as well as any garage or shed with high security locks from Lock Doctor. High Security Locks use a restricted system where someone can only cut a key for the lock if they have a card. This limits the amount of keys that can unlock your locks. High Security Locks can be purchased at your nearest Lock Doctor shop or you can call us for more information on 1850 555 000.
8. Door Restrictors
Door Restrictors from Lock Doctor also give the entry points of your home extra protection. The Secure Ring chain is a simple steel chain and loop that attaches to your door handle for security. It can withstand the brute force of a battering ram, should your house be raided. The Secure Ring is the first door chain of its kind to be officially approved by the UK police forces and is the world's only "Secured By Design" restrictor. It can also be installed seamlessly onto your front or back door. This will give you well deserved peace of mind. Door Restrictors and Window Restrictors can be purchased at your nearest Lock Doctor shop. You can also call us for more information on 1850 555 000.
Free Domestic Security Surveys from Lock Doctor
Need help in improving the security of your home? Lock Doctor offer free domestic security surveys so you can increase the protection of your home. Call us on 1850 555 000 or visit your nearest Lock Doctor shop for more information or for some domestic security advice.